Come baaaaaack! - Friday January 20th 2023 at 9:58 PM
I don't want things to change! Facebook murdered the forum, but Facebook is dying, so come baaaaaaack!
Loghecktech
Replies (1)
OHRRPGCE stable release (Gorgonzola) - Sunday May 3rd 2020 at 9:14 AM
Time for another stable release! We are once again attempting a release every three months, which means this one is a mere month late!

Gorgonzola has more bug-fixes than features, but it's notable nonetheless :)

Highlights:
* An impossible dream in the DOS days, transparency! Sprite and Map layer slices can have opacity and choice of three blending modes: normal transparency, add (good for clouds, coloured lights), multiply (good for shadows). (You need a one-line script to make a map layer transparent).
* Six new enemy dissolve/appear types
* Titlescreen Text, displayed at bottom of the tilescreen
* Script triggers for adding, removing, swapping heroes
See whatsnew.txt for all changes.

Download links

Using a map layer (multiply blending) for shadows: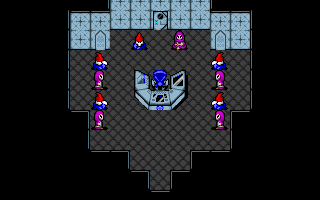 Adding some colored lights with an additive-blended map layer and a script to loop the opacity: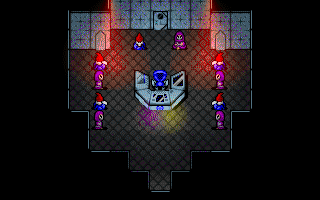 Fade, Ghostly Fade, Fade to White



Puff, Blip, Fade Up





Heart of the OHR Contest 2018 - Monday April 30th 2018 at 5:16 PM
Heart of the OHR Contest





2018 Edition



Here we go again...

...for the fifth time!

For those familiar with Heart of the OHR, feel free to skip down to the rules for a reminder of what was, and a taste of what will be. For those who are uninitiated, please read the following history lesson. Or don't. Your choice.



A Brief History as Written in 2010:




HotOHR 2010 Thread wrote:
It seems that as times change, interests start moving in new directions, and the things that first captured our hearts and attention about indie-RPG design had since faded into obscurity.

Toward the end of the '90s and the early part of this decade [2000s], RPGs were king, and were, incidentally, the only thing the OHR was capable of making. And then, as the decade continued, RPGs became less common, less desired, and soon the rate of releases made on the engine went from a sprint to a crawl.

Then, in about 2006 or 2007, the limits of the OHR began to change, and new life formed. Side-scrollers were now not only possible, but easier to make. Puzzle games, menu-based games, and even street fighting games were beginning to surface in droves throughout the course of three years. And during this time, the course of the OHR RPG began to fall. RPGs were released on occasion, but the presence of one became rare, and almost surprising. And even then, the likelihood of it being a joke game was high. No, the integrity of the epic vacation gave way to a cheap day-trip, and by 2009, the nature of the RPG had become nearly absent.

[In June 2010], Surlaw and I were discussing the disappointment of creating huge games, which translates to many, many hours of development time (read: three years or more for some games), that people refuse to play because it requires them to fight random battles (that aren't titillating 100% of the time), or read text (of any length), or spend more than a few hours of game time in order to finish it. Authors who put the level of time and attention that goes into a quality game, just to have it go unplayed because of an unwillingness to read (for example), are highly disheartened, and certain OHR gems have gone unfinished because the author experiences What's-the-Point? Syndrome.

This, of course, has contributed to the huge decline of RPGs--and especially in the quality RPGs--in our opinion, and that should be shocking when one considers we're a community focused on an RPG making engine.

Even James Paige once expressed a slight disappointment in the gradual reduction of games that actually use the default features to, you know, make an RPG.

That is what the OHRRPGCE was made for.

Now, this isn't to knock the surge in alternative gaming styles. I loved

Slimes

. The games released for the 2009 8-Bit Contest were brilliant. But look at how many good RPGs came out in 2009.

Okedoke

, and, um....

It's hard to say whether the modern RPG is dying or just in a slump, but we'd like to see this giant of yesteryear make at least one more stand in the community. So, I am proposing the "Heart of the OHR Contest," which is a contest, quite simply, about making the best RPGs we can make with the engine that brought us here in the first place.




Rules:



-Must be an RPG. This is a zero rule. What categorizes as an RPG can be left open for debate, but at the end of the day it must be an RPG. In 2010, we saw one game stretch the limit of what we considered acceptable (

Do You Want to Be a Hero?

), and I would argue

Silhouette

from 2012 pushed the boundaries, as well. In 2014, we basically bent the rule as far as possible with

T4R4D1DDL3

. In 2016, our winner,

Surfasaurus

was hotly contested for its interpretation as an RPG. In the end, I ruled in its favor. What you consider an RPG may differ from what someone else considers an RPG, so if you're not sure, then defend your case for it! You might beat the naysayers. For a complete list of the games that made the cut in 2010, 2012, 2014, and 2016, consult the following link:

http://rpg.hamsterrepublic.com/ohrrpgce/Heart_of_the_OHR

-NonRPGs not permitted (See Above).

-Joke games not permitted (though funny ones are okay).

-Special scripting is okay (as long as it doesn't turn the RPG into a nonRPG).

-Games must have at least 30 minutes of playtime with a good chunk of that devoted to story (in other words, 30 minutes without level grinding).

-Updates to previous RPGs permitted and even encouraged.

-Updates to previous RPGs need at least 30 minutes of new content to be eligible. Changing a textbox to an old two-hour game and re-releasing it doesn't make it eligible. Same goes for graphics overhauls. New playable content, people!

-If you are posting a rereleased game for the contest, you

must

provide either a readme (or some document) discussing where the new content starts (if it's a continuation) or what the new content is (if it's integrated into earlier previously released sections), or you must supply a save file that begins the game just before the new content kicks in.

If you fail to do this

, your game will not be entered into the contest.

Note: I prefer the former since it's clearer what's new and discourages players from beginning your game halfway into the story.



Important Note:

Historically, players are really bad about investigating new content and often replay the old stuff and vote on that without ever seeing the new content. This really skews the results at the end of the contest. This is especially true of long games. If you are submitting a rerelease and you care about doing well, please, please, please be abundantly clear about what's new and give your players every possible incentive to play to the new stuff. This means improving the first 30 minutes of the game if necessary. This means making the

whole

game as fun and amazing as possible. Don't turn your players off early or they may never get to the new content. Remember, just because you provide a save point or obvious information about where the new stuff begins and ends doesn't mean your players will use it. If they end up just voting on the same stuff they played five years ago, your points may not count. Think about the whole game.

-Fan games and parodies discouraged, but not forbidden. Original stories preferred.

-As the

only

exception to the must-be-an-RPG rule, you may alternatively release a game that's "in the spirit of 1999" and still be eligible for entry. This means that you may emulate the kind of game that was made for the OHR between 1998 and 2000. This rule was made possible by

T4R4D1DDL3

, so consult that game to see this rule in action.



New Rule for 2018:

I'm accepting almost any RPG type you can think of this year. This includes rogue-likes, walking simulators (with stat progression and level-ups), Zelda II clones, 3D mazes, etc. If the OHR can make it, and it still has classic level and stat progression, and there's still a story attached, it should qualify. Use your slice collections and stat displays! Use your fancy animations! Use your procedurally generated maps with seeds! Just make it great! And make the most of it because I'm taking the Heart of the OHR back to the beginning in 2020 where most of these fancy exceptions will go away.



New Rule for 2018:

With platforms like Steam making it possible for indie game designers to put their games up for sale, we are beginning to see an uptick in OHR users designing their games for commercial use, including those that involve licensed characters like

Kaiju Big Battel

and

Axe Cop

. Any game released for commercial purposes can still participate in the Heart of the OHR, but either a key, or a demo, or some alternative agreement should be provided to players if it's to enter the voting stage. Keep it accessible!



RPG Release Categories:



In 2010, every entry was lumped into the same category and judged under the same conditions regardless of originality versus the rereleased. In 2012, they were divided into three categories: Original, Rereleased, and OHR Legends. In 2014, they were separate categories, but shared the same vote. We continued this trend in 2016. We will be continuing this trend in 2018.

Original and Rereleased Games:

Original games are the games that have never been publicly released prior to May 1, 2018. These are the easiest to judge since the ground is fresh. We had eight original entries in 2010, including the Game of the Year winner,

Motrya

, 13 in 2012, nine in 2014, and 11 in 2016.

Note: These games just need to come with a Coke and a smile.

Rereleased games have been unleashed on the community before May 1, 2018, and are making a second-life appearance in the Heart of the OHR Contest. Any original game that was released for the 2010, 2012, 2014, or 2016 contests will automatically default to this category if reentered for 2018. In 2010, we had four rereleased games. In 2012, we had three. In 2014, we had one. All games were original in 2016.

Note: These games must include documents or save files that inform the player where the new content can be found. See the rules above for more information.

OHR Legends:

This special category is reserved for the games that have been submitted as rereleases in previous Heart of the OHR contests and resubmitted this year as "legendary" contestants. There are nine games eligible for Level 1 Legend status and two (

Vikings of Midgard

and

Okedoke

) eligible for Level 2 Legend status. In addition to a potential win, these games also get a "level badge."



Release Dates:



Unlike traditional contests, "Heart of the OHR" will not require a start time or an end time per se. Rather, this will adopt the "release window" technique made popular with Game-a-thon, in that any RPG released within the window is eligible (provided it meets the above standards).

Window begins May 1st and ends December 15th, with a one-day grace period for special cases and accounts for time zone differences.

Traditionally, I end the contest in November and allow a two-week grace period for bug-fixing (Note: this grace period is not reserved for adding new content, unless that new content is required to fix a bug or to tie a loose thread). This year, I'm including the bugfix period as part of the deadline, so try to have your games done by November 30th and bugfixed by December 15th. Entries must be ready for voting by 6am EST, December 17th.



Voting:



Voting will run from December 17, 2018 - January 27, 2019. That gives you a whole six weeks to play these games! Make it count.

Note that I will not close voting until I have a minimum of 10 votes, so if the deadline comes and goes and I have fewer than ten, voting will remain open until the minimum is met. I want all contestants to have a fair playthrough and comment/critique/score for their games.

The way we handle votes will be the same as in the 2014 and 2016 contests.

For full details on how it was before 2014, consult the following post:

http://www.slimesalad.com/forum/viewtopic.php?p=71778#71778

How Voting Works-

Five-point Average: Any game that falls short of the peak vote target range will receive however many fives it takes to reach the two-thirds margin.

Peak Vote Target Range: Identifies the game with the most number of votes and uses its vote count as the determinate for the contest average.

Two-thirds Vote System: Caps the required voting minimum at two-thirds the value of the peak target. Any game meeting this minimum cap will not receive additional fives to pad its average.



Prizes:





Note: New Prizes for 2018.



Because RPGs are harder to come by these days (especially in contests), I thought it's only fair to combat the odds with prizes that don't suck. Therefore, various members of the community have agreed to give special bonuses to entrants and the winner.

*



Anyone out there can add to the prize pot if he or she has something to offer, so feel free to help make this into a treasure trove of winnings if you want to, and if you have the resources for it.

Specifically I'd like to see:

-cash prizes
-fan art
-theme song about the winning game(s)
-gifted games
-etc.

You may view talked about prizes or add to the prize pot discussion here (beginning on Page 3):

https://www.slimesalad.com/forum/viewtopic.php?t=7598

I'll update the prize list here as new prizes are offered. New prizes can be added until the end of the contest.

Potential community-offered prizes include:



(Service Prizes)



-Satisfy a big feature request or bugfix, for winner only. (James)

-HeartBugs for every entrant, in the tradition of the old Heart of the OHR bugfix incentive. See this post for details, rules, and exclusions. (TMC)

-Video playthrough of all completed games. (Kylekrack)

-Video playthrough of all games (up to the first 30 minutes), and full playthrough of the top three winners, to be posted on my YouTube channel.

**

(Pepsi Ranger)

-Catchable monster to be used in

Puckamon

, based on creature (or some other element) from winning game. NPC may refer to last place game in some way. (FnrrfYgmSchnish)

-Short saga of character by winner's design, to be included in the religious lore of the game

Starfire

.



(Food Prizes)



-Gift card for a hamburger place of the winner's choice.

***

(Wobbler)

-Home-baked chocolate chip cookies mailed to winner. (James)



(Stuff Prizes)



-Random box of stuff for the winner. (Spoonweaver)

-Free copies of any e-book with my name on it (my actual name) to all entrants. (Pepsi Ranger)



(Game Prizes)



-Steam game ($5-$10 value) for 2nd and 3rd place winners. (Gaplan)

-Pepsi Ranger's Steam Favorites for the winner.

****

(Pepsi Ranger)



(Cash Prizes)



-Amazon gift cards of some unknown amount.

*****

(Foxley)

Note: This list will remain open to new prize additions from now until December 17th. I will update this list as I get new volunteers.



Special Prize for OHR Legends releases:



Any game categorized as an OHR Legends release will receive a special trophy classifying it as such. This is strictly a prestige award, but it will remind future players of the game's longevity. This trophy will receive "levels" each time it's awarded to a specific game. OHR Legends releases should still meet the 30 minutes of additional game time rule to be eligible for the trophy.

Note: Until I get someone to draw the trophy and Mogri to provide a location for it on the game's dedicated page, this trophy will be in spirit only. I know, lame. We're working on it, eight years later! (Full disclosure: No one's really working on this.)

So, as you can see, it would be crazy not to join and make something for the Heart of the OHR Contest, so take the chance.



*

Because prizes are awarded by members of the community, and because community members come and go like the wind, all prizes are subject to change.



**

I reserve the right not to record a game or post it to YouTube if I think the content is unsuitable for my channel. This will include games with excessive cursing, any sexual content above a PG-13 level, excessive gore, offensive themes (or anything I think will anger people, which could be anything these days, so I'll use discretion), demonic themes (this is a personal choice, as I do not want this theme on my channel), or games with unlicensed content (commercial music, characters, etc. used without permission).



***

Value will be determined by the prize holder, Wobbler. Contact him for details.



****

Prize is conditional on my financial status as of February 2019 and may be satisfied over the course of two or three months rather than immediately. This prize is based on my running favorites on Steam, and will include Kenshi (currently $20 value, but may go up after it hits 1.0) plus your choice of either Factorio ($30), or RimWorld ($30), or Prison Architect ($30), or Stardew Valley and Terraria combined ($25 value). I may include more than one of the secondary games if the prize is satisfied during a sale and these games qualify for it (Factorio has a no sale policy, so that will not be paired with a third game). In the event that the winner already owns these games, I will make a substitution of equal or lesser value. (Note: I haven't actually played RimWorld yet, but I'm sure I'll really like it.)



*****

Value of Amazon card determined by the prize holder, Foxley. Contact him for details.



Tips:



Release the best game you're capable of making. The community doesn't want to see or play throwaway titles anymore. Do your best to make a quality game. While you shouldn't be intimidated by this, you still need to be aware that games like

Wandering Hamster

and

Motrya

are just as capable of making an appearance during the contest window as any game, so make it your best if you want the winning prizes.

Have fun. Please use this thread to announce your RPG releases starting on May 1st. And I'd appreciate it if this thread were stickied until the end of the year. Thanks.

I will update this thread periodically as new information comes. Good luck, everyone.
Pepsi Ranger
Replies (4)



June 2023

| | | | | | | |
| --- | --- | --- | --- | --- | --- | --- |
| S | M | T | W | T | F | S |
| | | | | 1 | 2 | 3 |
| 4 | 5 | 6 | 7 | 8 | 9 | 10 |
| 11 | 12 | 13 | 14 | 15 | 16 | 17 |
| 18 | 19 | 20 | 21 | 22 | 23 | 24 |
| 25 | 26 | 27 | 28 | 29 | 30 | |

Enter Event