OHRRPGCE stable release (Etheldreme) - Sunday December 3rd 2017 at 6:39 PM
We have another stable release! Download it here:

https://rpg.hamsterrepublic.com/ohrrpgce/Downloads

Highlights include:

* Many new map-editor features, including mouse support.
* Enemy "appear" animations.
* Customizable hero experience curve.
* Textbox save/load/delete/end game conditionals.
* Unhid still-experimental option for non-320x200 games.
* Copy-paste text between the editor and other applications.
* Visual browsers for sprites and many other things.

http://hamsterrepublic.com/ohrrpgce/whatsnew.txt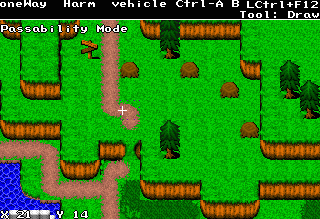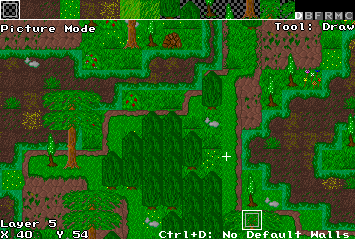 A Big Thank You. And Introducing My New Studio: Wild Gamut! - Sunday November 5th 2017 at 11:00 AM
Hey everyone!

So, OHRRPGCE is the reason I work in the game development industry today. I discovered it when I was only 10 years old (18 years ago!) and I've been making games ever since. Some of you may know the development and publishing studio, MADSOFT Games, that I founded in 2008 (I used "MADSOFT" as my username on here way before I founded that though!). But I've also worked at various other studios including EA Games, Ubisoft, and Juicy Beast thanks to that experience.

I switched to working at MADSOFT Games full-time back in 2012 and grew the studio exponentially after moving it to Edmonton, Alberta. We built up the game development industry there, founded several events, fostered growth in the indie community with our advocacy group and gam jams, worked with schools and existing local studios to make sure developers stayed in the city after graduating, and a lot of new indie studios came to be thanks to us. So you are not only responsible for my own career, but also indirectly responsible for all the good we've done for the industry and community in Edmonton.

I've also done a ton of talks and been on a lot of panels at conventions. And whenever I'm asked how I got into game development at those panels, I always mention OHRRPGCE. I wouldn't be where I am today if it weren't for this engine and the Castle Paradox community.

So before moving forward, I wanted to thank you all. This community, the engine, James Paige,
RedMaverickZero, Fenrir-Lunaris, JSH357, Fyrewulff, Moogle1, etc. You all inspired me. Thank you!

A little over a year ago, I got married and my son was born a month after that. I decided to move out of Edmonton and, earlier this year, I stepped down from my position as director at MADSOFT Games for various reasons. One of those reasons included wanting to get back to working as an indie developer. MADSOFT is pretty corporate now, what with investors, employees, etc. Too much relies on the company and we couldn't take as many risks anymore, and I missed having the creative freedom that came along with being a small two-person indie studio.

So, on November 1st, I launched a new indie studio, Wild Gamut, along with co-founder Marjorie Paré. I thought that it would be appropriate for me to come here and share the story and the studio, seeing as this is where it all began.

We're investing our own money into the studio as capital, but we also started a Patreon to help us reach our goals quicker and alleviate a bit of the stress that comes along with bootstrapping.

I really hope to have your support with this new venture and I look forward to sharing our new games with you, even though they aren't built in the OHRRPGCE.

And, if you have any questions for me, feel free to post them here and I'll do my best to answer them clearly! Thank you <3
Andrew-David
Replies (5)
OHRRPGCE 20 Year Anniversary! - Saturday November 4th 2017 at 9:46 AM




Yes, really! Today, is the remarkable

20th anniversary

of the oldest surviving copy of the Official Hamster Republic Role Playing Game Construction Engine, a demo of Wandering Hamster dated November 4th, 1997.

You can still download it today and play it in DOSBOX! Check out the Wandering Hamster page archived from 1997:
https://web.archive.org/web/19971011231138/http://www.cyberverse.com:80/~spam/wander.html
(mirror of the download)

See Timeline on the wiki for lots of tidbits about the start of the engine.

(Although I searched hard, I couldn't work out when the first release of the OHRRPGCE editor was, although I'm fairly confident it was January 1998 or December 1997. James started development in summer 1996. I don't know when the first demo of Wandering Hamster was either, but there were at least two before this one.)

To celebrate, I've added support for this early demo of WH to the next version, Etheldreme. Now we can claim 20 years of back-compatibility :)
To play it, you will just need to rename the WORKING folder in the .zip to something ending in .rpgdir, like WANDER.rpgdir, so that the engine will recognise it as a game.

(However, not all of my fixes are in the latest nightly build yet. Most significantly, two of the maps use the wrong tileset, and there's an engine bug message when James joins the party. I should have prepared this ahead of time!)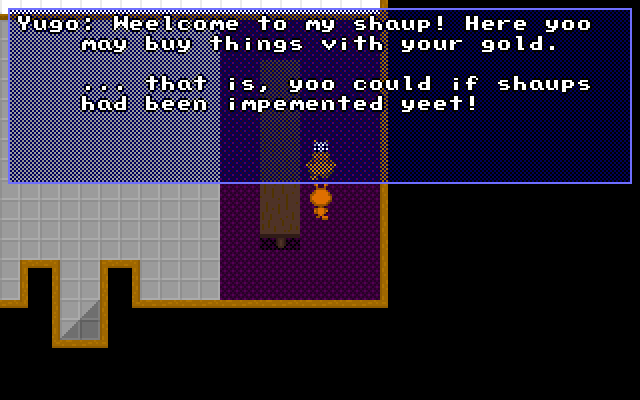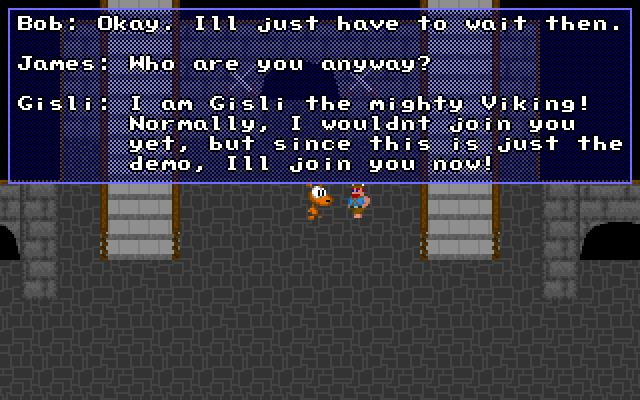 This demo of WH has no music or title screen. Flanat only has four buildings, and the demo is pretty short, with not too much to do at Hasim Castle but fight Broaste, although I did stumble upon a secret area which has since been removed! It is a long walk back and forth to the castle, and you do need to level a bit to beat Broaste.

Uhh, well the one thing that doesn't work is that lots of global text strings are mixed up! Theres lots of status effect messages which got removed later.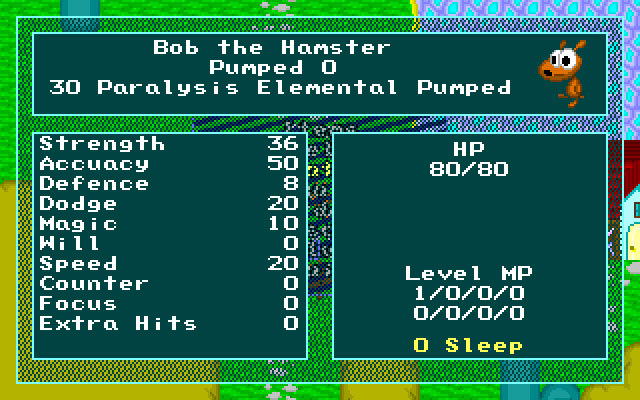 OHRRPGCE Stable Release (Dwimmercrafty+1) - Thursday August 31st 2017 at 4:04 PM
[

Edit

: Dwimmercrafty+1 has been released! See below]

A new stable ohrrpgce release is upon us!

Download it for your platform here: https://rpg.hamsterrepublic.com/ohrrpgce/Downloads

Here are a few highlights of the new features:

* NPC pathfinding, and other new NPC movetypes including follow-walls
* Record .gif videos with Ctrl-F12
* More map layers, hero definitions, and global variables
* More info shown in-game in shops and spell lists
* One-way walls
* Lots of new in-game debug keys/F8 debug menu options, and a similar new menu in Custom accessed with F9
* Can jump to item, attack, enemy, textbox and npc editors from other editors
* Lots of progress on mouse support
* On Windows, Custom's window is now resizable; resizing works almost everywhere
* Sound effect volume control

Or see http://hamsterrepublic.com/ohrrpgce/whatsnew.txt for more details




EDIT:
dwimmercrafty+1 released!

Fixed a critical bug that erased On-Death-Bequest attacks and Non-Elemental-Counterattacks from all enemies when a game was loaded into custom. If you lost enemy data, and you still have a backup copy of your game from before August 29 2017, please ask the developers for help on the Forums. (this bug also affected nightly wip builds from 2017-08-29 thru 2017-09-21)
OHRRPGCE stable release Callipygous+1 - Monday June 6th 2016 at 9:31 PM
We have a new bugfix release of Callipygous for you today which fixes a number of bugs, especially some major ones afflicting Mac users. If you are using gfx_sdl (Mac or Linux) then there are also some improvements to running Custom in a larger window.

Downloads
Changelog
Callipygous release thread

Don't forget that if you are using nightly builds then you should NOT switch to Callipygous+1; it would be an incompatible downgrade.



April 2018

| | | | | | | |
| --- | --- | --- | --- | --- | --- | --- |
| S | M | T | W | T | F | S |
| 1 | 2 | 3 | 4 | 5 | 6 | 7 |
| 8 | 9 | 10 | 11 | 12 | 13 | 14 |
| 15 | 16 | 17 | 18 | 19 | 20 | 21 |
| 22 | 23 | 24 | 25 | 26 | 27 | 28 |
| 29 | 30 | | | | | |

Enter Event