2013-04-10 Beelzebufo stable release - Wednesday April 10th 2013 at 2:53 PM
After much delay, the beelzebufo release is finally ready for download! Bask your self in the warm glow of an optional Turn-Based battle mode, more customizable hero attack menus, some nifty map editor improvements such as the ability to mark and clone sections of tilemap, and an assortment of other bugfixes and new features. See whatsnew.txt for the complete skinny.

If you have been testing nightlies, you will have already seen what is new, but here are a few screenshots:

Here are few screenshots of new things:


Bob the Hamster
Replies (12)
Old timer OHRRPG gamemaker AshRaimi here to ramble nonsense - Friday April 5th 2013 at 4:22 PM
Since a new Evil Dead movie is getting released today I wanted to pop into the old OHRRPGCE community to see how things were going. Seems like all is still well around here and there is still new OHRRPGCE's being made! I thought it would be nice to just write a blurb on the goings on with one of the original OHRRPGCE gamemakers.

What prompted this? Well before I wanted to see the new movie I thought I would load up the OHRRPG I made a while back in the early days (well over a decade ago!), Evil Dead Timeline, and see how it holds up. Sadly not very well. Terrible writing, shoddy artwork, bad balance of random difficulty. Can't believe this game made it to a lot of top 10 lists for the community. It's weird going back to your first game and thinking "Yuck! What the hell was I thinking here"?! Also the game is littered with ugly bugs in the newer OHRRPGCE versions so playing it now wouldn't be ideal unless you have one of the old versions of Game.exe.

I came back to the community about 8 years ago with news that I was working on a new version of the game, Evil Dead Timeline Take 3. Sadly I wish I was unable to finish it before my computer crashed and burned all those years ago. It was a near complete overhaul of that game with a lot of attempts to add survival horror elements to traditional turn based rpgs. I still have the dead harddrive with that file still on it, hiding in my closet somewhere, hoping to be resurrected someday. Here were some screens from it (sorry for the poor quality as these are the only images I have left of it):

The game would've been renamed Tales of the Evil Dead



The opening story would've been completely reworked (no more crappy movie image imports). It would've lead to you having to choose from 3 books at the beginning.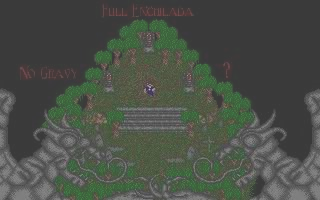 There would've been more side scrolling segments and adventure game elements: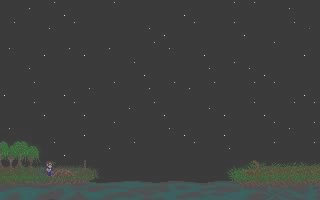 Boss battles reworked and redrawn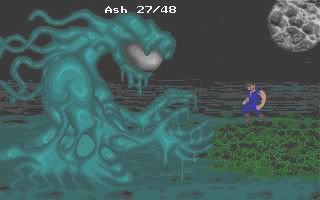 Redrawned backgrounds, enemies, maps, art, etc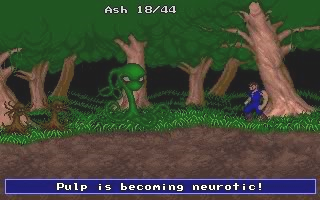 Now before you ask "is he finally making an update to Evil Dead Timeline"? Sorry, the answer is "no". Evil Dead Take 3 is cursed by the Necronomicon itself. Twice I attempted to finish that game and both times my computer died during the process (and strangely my backup disappeared too). It's in the past now and its ghost will forever haunt me.

So what have I been doing since then? Well after my failed attempts at Take 3 I went to romhacking and made a Super Mario World hack called Massimo. It was my attempt at at reworking Super Mario into a strange little adventure game. I made it in the course of three months for a romhacking contest. Despite some flaws I thought it turned out rather nicely and helped give me a good warm up on level creation skills.

Massimo:




After that I started doing my own coding and am now working on my own game, EG. It's not an RPG, more of a Metroidvania-esque game. I've been working on it for quite some time and am almost ready to show something for it. Once I'm ready I'll show some stuff here first.

EG: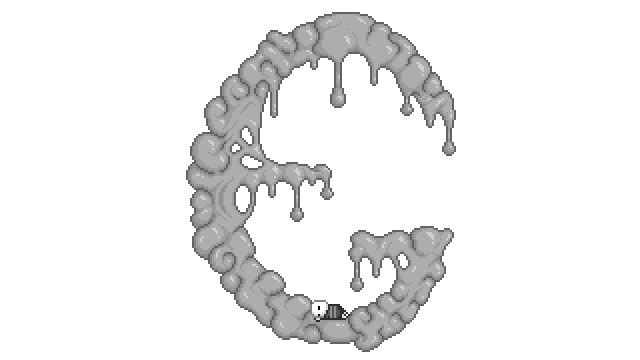 I am however really wanting to delve back into wanting to make an old school RPG again. It will be very similar to Evil Dead Timeline but without the license attached to it. There was a lot of ideas I had for that game that never came to fruition and would very much like to expand upon it. It won't be on the OHRRPGCE sadly since I'm doing all my own coding now, but I'll keep you guys posted if and when start working on it.This time I have plenty of drives to back it up with.

Anyways, sorry for the random rambles. Who knows if anyone is still here from back in the day that would remember me. This was the place that pushed me into finally making games and am very glad to see it is still active after all these years. Keep on creating guys!

AshRaimi
E3 - Monday March 4th 2013 at 1:26 PM
so for the past few months my team and I (7people) have been working on a game using ohrrpgce. we just got a exhibitor space reserved for us for E3 2014! this is huge. does anyone have any tips to improve a ninja game. ideas for mechanics or features that we may not have thought of?
gagekilmer
Replies (10)
Sword of Jade 1.2: Beelzebufo Parity Edition - Monday January 28th 2013 at 12:46 AM
Download:

Last updated April 14th, 2013

Windows:
http://fyrewulff.com/fdc/swordofjade/sword-of-jade.zip

Mac:
http://fyrewulff.com/fdc/swordofjade/sword-of-jade-mac.tar.gz

Debian Linux:
http://fyrewulff.com/fdc/swordofjade/sword-of-jade_i386.deb

Scripts (incomplete as of 4/14)
http://www.fyrewulff.com/fdc/swordofjade/jadescripts.zip

Update notes:



April 14th


- Some minor changes
- Updated to match latest stable engine release



March 24



- Fixed more of the credits. All credits should be proper now for the content in the game

- Cleaned out some unused data

- Various enemies have been assigned new death animations that the engine now supports



Previous



- Sword of Jade data file now updated to latest engine version
- Sword of Jade reverted to standard .rpg file (computers are now fast enough to unlump it in a reasonable amount of time)
- Remnants of commercial music tracks finally removed completely.
- Junk data and NEEDS DESCRIPTION removed from all attacks.
- GAME.EXE browse data updated to reflect updated copyright
- Title Screen updated
- Intro credits and end game credits changed to reflect soundtrack change
- Developer room URL updated



This is now the only acknowledged official version of Sword of Jade. If you are hosting previous versions, please replace it with this version. If you are linking an old version, please point at this version. Thank you.



September 2012

| | | | | | | |
| --- | --- | --- | --- | --- | --- | --- |
| S | M | T | W | T | F | S |
| | | | | | | 1 |
| 2 | 3 | 4 | 5 | 6 | 7 | 8 |
| 9 | 10 | 11 | 12 | 13 | 14 | 15 |
| 16 | 17 | 18 | 19 | 20 | 21 | 22 |
| 23 | 24 | 25 | 26 | 27 | 28 | 29 |
| 30 | | | | | | |

Enter Event